Teahouse in the tower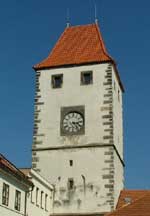 In Mělník's remaining medieval gate tower the café/teahouse/gallery Kavárna ve Věži offers hundreds of types of tea and coffee from around the world, and from its fifth floor, extensive views over Mělník and the surrounding countryside.

The entrance is from the arch beneath the tower where a creaky wooden staircase leads up to the first floor. The first floor houses the counter, kitchen and a couple of comfortable looking sofas that always seem to be occupied by the owner's friends.
Mechanical waiter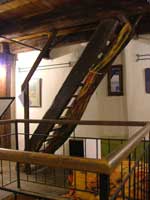 Another steep, wooden staircase leads to the second floor, where, around an opening that overlooks the counter downstairs, are arranged six or seven tables and a low sofa. One floor higher is a single large table in the centre of the room and another staircase that leads up to the viewing level.
In the opening between the floors a clever mechanical waiter carries drinks, food and used dishes up and down between the different levels of the café. It's a simple metal tray that is pulled from floor to floor using long ropes and pulleys.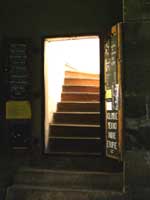 On the second floor people write their orders on paper and ring the bell. The staff then wind the waiter down and send it back up when your order is ready. On the third floor there's an old fashioned telephone; you need to wind the handle at the side and wait for someone to answer before ordering.

If ordering like this seems a bit complicated, the staff are also happy to accept orders in person down on the first floor. The mechanical waiter is there so that they don't have to constantly climb steep stairs with trays of hot drinks, not because they don't want to talk to anybody.

Tea and Coffee from around the world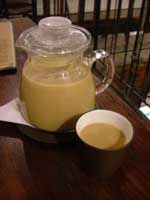 On the tea menu there are some interesting concoctions in the specialties section. Along with three different ginger teas and a frappe made from powdered Japanese matcha and condensed milk, is Data Masala; a sweet milky tea spiced with white pepper, cardamom and cloves (60Kč). The recipe that the teahouse in the tower is really known for though is Baba Yaga's tea which is a special mix of black tea, red wine and secret spices (85Kč).

The coffee section is no less intriguing, with blends from Costa Rica, New Guinea, Ethiopia, Columbia and a dozen other places each available to be made as Turkish coffee, espresso or mocha (35-52Kč). And if you're hungry after all that, couscous, toasted sandwiches and pita bread range from 30-70Kč.

Wifi, non-smoking, open seven days
The entire teahouse is non-smoking, offers wifi access for no charge and is open seven days a week; weekdays from noon until at least 10pm, and on weekends from 2pm until at least 10pm.
Galerie a Kavárna ve Věži
Pražská brána, ul. 5. kvetna
Tel. (+420) 315 621954
(Prices correct September 2008)