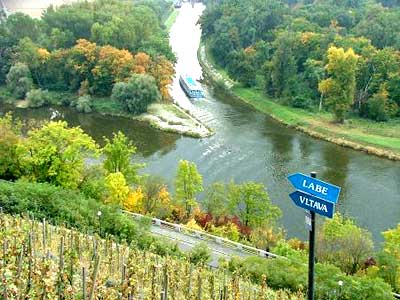 Getting to Mělník
Mělník overlooks the junction of the Labe and Vltava rivers, 33km north of Prague.
From Prague to Mělník by train will involve at least one change, but up to 40 direct buses make the 40 minute trip each day for around 50Kč (Price correct- Feb 2009).
From the Mělník bus station, cross the busy main road at the traffic lights and follow Krombholcova street; the one that leads away on a 45 degree angle to your right. When, after ten minutes, Krombolcova merges into Pražská, follow it for one more block then cross over near the old gothic gate tower and you've reached the old town.

From the train station, cross the street and turn right, then go around the first corner to your left. This is Jiřího z Poděbrad and after 200m brings you to the bus station from where it's a ten minute walk into the old town following the directions above.