Church of Saints Peter & Paul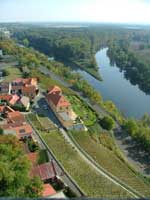 From the highest point of the steep, riverside clifftop the tower of Melnik's Church of Saints Peter and Paul watches over the junction of Bohemia's two greatest rivers and dominates the skyline of the town.
Originally built in the 11th century but renovated and extended in the 14 and 15th centuries, the church of Saints Peter and Paul has stood alongside the fortress and castle since the time of Bohemia's legendary Premyslid kings.
Interiors worthy of a cathedral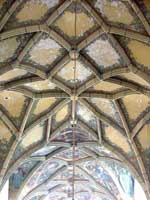 Worthy of a cathedral, a visit to the preserved church interior is well worth the token 40Kč entry fee. Highlights are the elaborate stained glass windows and the graceful Gothic arched ceilings that span the nave and presbytery. Keep an eye out for the date 1533 woven into the frescoes; this represents the final stage of the medieval rebuilding to the church, and despite undergoing separate restoration projects at the beginning and end of the 20th century, the appearance of the interior has changed little since the painters dated their work and packed away their brushes and mahlsticks.
Crypt of bones
Under the presbytery is a crypt that served as an ossuary; a resting place for bones exhumed from old graves when the space was needed for new burials. The bones of more than 10,000 people are stacked in mounds around the walls of the crypt and the visible sides of the piles have been decorated with simple arrangements of bones. Entrance to the ossuary is through a small door and down a narrow and steep staircase from the outside of the church.

Lookout from the belltower
Also accessible from a separate entrance is the staircase leading up to the lookout level of the church's distinctive bell tower. The ticket office for the tower is at the top of the first staircase, and from there it's up again to the level of the bells and then again to the clocks and the lookout walkway. The lookout balcony runs around all sides of the tower behind the clock faces and into the small corner turrets. While most of the church dates from the Gothic era, the pear shaped spire of the tower was built in the Baroque style after the original was destroyed by lightning in the mid-17th century.
Long opening hours
If the weather is suitable, the tower is open seven days a week from 10 to 6pm, and the views across the countryside and the junction of the rivers Labe and Vltava reward the steep climb. The bone crypt is open from 10am until around 4pm but is closed every Monday, as is the interior of the church.