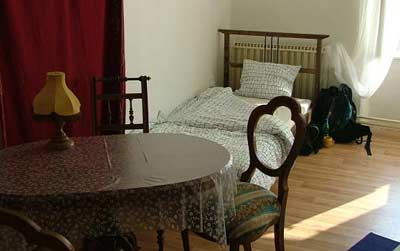 Small guesthouses on the main square
One thing you'll never want for in Telč is good cheap accommodation. The dozens of small family-owned guesthouses, some of them even with rooms looking out over the famous main square, make sure of that.
In most cases, you'll probably even not need to reserve ahead. It'll be enough to arrive in the morning, visit tourist information and choose from the places that have space available. If you need to arrive late in the day, or will be in Telč during a festival or busy time, it's probably not a bad idea to call ahead. Anything with an address including nám. Zachariaše z Hradce or something similar is located on the main square.
The Drbals
One such guesthouse that I've stayed in is run by the Drbal family at number 12 on the square, just two doors along from the tourist information office. There's a small café on street level that also functions as reception for the guesthouse.
The room that I had was long and narrow with a window overlooking the square, two single beds, television, table and chairs and a bathroom for my exclusive use, even though it was located a few steps along the corridor.
The price for this was 400Kč per night, using the room as a single room. The Drbals can be contacted on (+420) 723 953237 or at ubytovani.drbal@centrum.cz
Others
If Mr. and Mrs. Drbal happen to not have any space, or you'd just prefer to call around a bit, other similar guesthouses include:
Privat U Šeniglů, nám. Zachariaše z Hradce 11 (between the Drbals and the tourist info office) Ph 775 219361
Privat Kotrba, nám. Zachariaše z Hradce 32, 564 571053 or 723 899753
Penzion Patricia, nám. Zachariaše z Hradce 38, 567 213342 or 721 212713
Marie Plačková, nám. Zachariaše z Hradce 39, 567 243066 or 737 409574
Penzion Steidler, nám. Zachariaše z Hradce 52, 567243424 or 602 790975
Penzion U Rudolfa, nám. Zachariaše z Hradce 58, 567243094 or 728 738193
And that's just a selection of the places on the main square. There are plenty more in the side streets and on the other side of the ponds.
Telč is one place you'll never go wanting for accommodation.