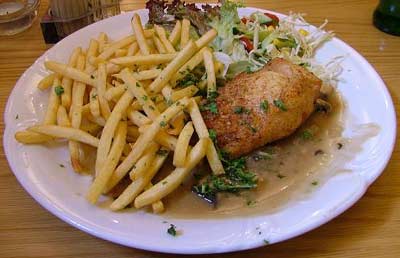 Restaurant U Křížovníků
Restaurant U Křížovníků is in the cellar of the Aura palace hotel and serves the best value meals that I could find in the spa-end of Karlovy Vary.
Skulls and slate
The entrance is down a short staircase on Moravská Ul. just beside the church of Mary Magdalene. The restaurant is open from 10am to 10pm seven days a week and there's space for around 60 diners in a big open room which has been halfheartedly decorated in a medieval theme. There are bales of hay scattered here and there, some fascinating old paintings and drawings in frames and even some human skulls lying around in odd places. The floor tiles suggest slate and there's some nice artistic blacksmith work-the light fittings are all made in the shape of flaming torches, for example. The effect is let down by the too-bright lights, the modern bar area and most of all by the never ending twitter of the widescreen television on the back wall.
Pepper pork sirloin
Still, we didn't come here to study interior design did we? The thick menu in four languages offers fairly typical Czech food including such dishes as Pepper pork sirloin for 130Kč, One quarter of a roast duck for 180Kč and Salmon fillet in dill sauce for 200Kč. To these prices you need to add 20-35Kč for side orders of potatoes, vegetables or rice. If you're really after a budget meal, the Svičkova with dumplings goes for 110Kč and Goulash is 95Kč. All the prices were around two-thirds of what I could find anywhere else at this end of town.
Pilsner and Kozel on tap
On my first visit I had Chicken with spinach and mushrooms, a side order of fries and a mineral water, which came altogether to 165Kč. Second time around I chose the Fried Hermelin (camembert) cheese with cranberry sauce. Made from fresh cranberries, Yum. The beer on tap was either Plzeň 12 for 35Kč/half-litre or Dark Kozel for the same price. A couple of other varieties including alcohol-free beer were available in bottles and there seemed to be a wide selection of wine.
Location, location
While there'd be nothing special about U Křížovníků if it were in a different location, in the expensive spa-end of Karlovy Vary it's an oasis of affordability and a good option to keep in mind.
Restaurant U Křížovníků
Moravská 2A
36001 Karlovy Vary
Tel. 353 169500