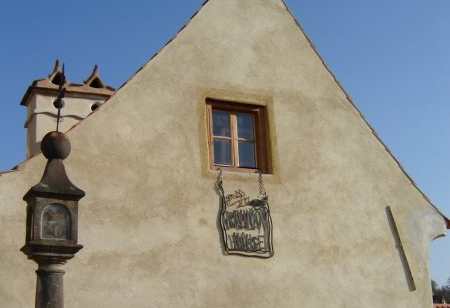 Hostel Krumlov House
Set on a high ridge with glimpses of the Vltava River, Krumlov House is a wonderful place to stay in this most picturesque and romantic of South Bohemian towns. The building itself is a 400 year old ex-bakery which has been lovingly restored by the artistic and resourceful owners. Two spacious dormitories each of six-seven beds (singles only-no bunks) occupy the main floor of the hostel, along with a spacious and well-equipped kitchen and comfortable common room filled with armchairs, sofas and musical instruments.
Dorms, doubles and views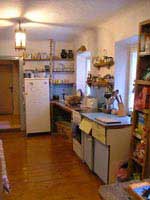 The dormitories are complimented by several private rooms, from simple doubles, triples and quads up to fully self-contained apartments with their own bathrooms, kitchenettes, and separate entrances to the street. The hostel therefore is suitable not only for travellers on a shoestring, but also those who would usually stay at a family pension or budget hotel. The private rooms under the steeply sloping roof of Krumlov House are particularly romantic and offer good views of the river valley, the old synagogue and (if you care to lean slightly out one the dormer windows) even the tall round lookout tower of Český Krumlov's famous chateau.
Krumlov's first hostel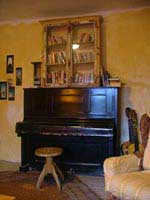 Krumlov House is the descendant of Český Krumlov's original hostel, U Vodnika, which has now closed and is used as the family home of the hostel owners. Their nearby replacement hostel Krumlov House opened its doors in the spring of 1996 and continues the fine tradition of friendly and relaxed accommodation that helped make the old U Vodnika legendary among backpackers. Indeed the popularity of Český Krumlov itself owes no small debt to the welcoming and informative hospitality provided by these two hostels in turn.
Insiders' guide
Part of this hospitality is the free map of town provided to guests upon check-in. The map is regularly updated to show the location of all the inside-tips for the best restaurants, bars and cafes in town. And that's valuable information in a town like Český Krumlov with dozens upon dozens of these places in the historic centre alone. There's also a comprehensive folder of suggestions for daytrips into the countryside, including to the castle ruins at Divčí Kamen (Maidens' Rock) or an afternoon of horseback riding in the hills.
Call ahead in Summer
Krumlov House is, (along with the Poets' Corner in Olomouc) consistently one of the highest-rated hostels in the country. Beds and rooms can be reserved through all the major booking websites, by emailing the hostel through their website or by telephone on 380 711935.
The hostel is open year round and the value that it offers is no secret, so it's a good idea to reserve ahead for the summer months and busy times like Easter and Christmas.
Hostel Krumlov House
Rooseveltova 68
Český Krumlov 38101
Tel. 380 711935